Features
of the BC 201 Capacitive Acceleration Meters
High level of internal noise
Dynamic range of 40 ~ 60 dB
Multi-functional
Simple calibration
Specifications
of the BC 201 Capacitive Acceleration Meters
Technical Specifications

Sensitivity
500 mV/g
Frequency band
up to 500 Hz
Relative transverse sensitivity
≤5 %
Amplitude range
±2.3 g
Internal noise, RMS
<0,004 g
Measured vibration acceleration values range
0.01 to 1 g
Three-wire connection circuit
ground, output signal, power supply
Power supply voltage
5 V
Level of direct voltage at the output (in horizontal position at 0 g)
1.8 V
Consumed current
5 mA
Output resistance
≤500 Ohm
Body material
stainless steel
Supplied accessories
Pin
Mounting
On M5 pin
Cable (standard length)
integrated, 2 m
Weight
16 g
Application Scope
of the BC 201 Capacitive Acceleration Meters
Linear
acceleration
measuring unit
Inertial
navigation
systems
Super low-frequency
oscillations
recorder
Connection Diagram
of the BC 201 Capacitive Acceleration Meters
Electric circuit of the BC 201 acceleration meter is shown on the figure below.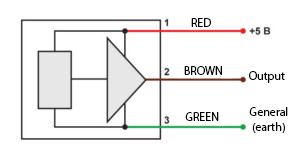 Acceleration meters BC 201 are connected to the AD converter, DA converter ZET 220 directly, while to the ZET 210, through the  ZET 410 or the  ZET 412 amplifier.

The BC 201 acceleration meters can be connected to the  ZET 017 FFT Spectrum Analyzers through A 03-50 adapter; miniXLR5 socket is installed on the sensor cable to facilitate connection.


The BC 201 acceleration meters are capacitive acceleration meters and can be used as linear acceleration and position sensors since they measure not only the variable component of the acceleration signal, but the direct component as well.
When the acceleration meter is installed on a sloped surface, it allows to measure the radial acceleration.
Application
of BC 201 capacitive accelerometers
Data protection notification
Please note that the personal data provided by you is used exclusively for the purposes of fulfilling our contractual obligations, including, but not limited to: issuing invoices, delivery documents, documentation relating to customs clearance process, etc. We do not provide your personal data to any third party except for the purposes relating to our direct contractual obligations. Upon completion of order processing and expiry of the warranty period for the Products provided by our Company, we do not store or process any of your personal data. Please note, that our Company's Confidential policy does not imply any advertising or marketing activities with the use of your personal data (including your Company name, address, your E-mail, phone number and other information provided by you with a view to placing an Order and organization of the Delivery).