Strain gauge transducer for deformation measurements ZET 7110 DT
highly-sensitive strain gauge transducer for deformation measurements with digital output;
static and dynamic measurements performance;
easy installation on magnetic surfaces of the controlled objects;
self-diagnostics;
data communication interface CAN 2.0.
Specifications
of strain – gauge transducer for deformation measurements ZET 7110 DT
Metrological specifications

Controlled parameter
deformation, microstrain (mechanical strain)
Transducer type
transducer with integrated sensing element
Nominal measurement range of relative deformation
±8000 µm/m
Nominal sensitivity
±2,5 mV/V
Nominal detection range of concrete cracks opening
±1 mm
Safe overloading range
200 %
Tension force at relative deformation of  8000 µm/m
10 N
Nonliearity value
±0,5 %
Hysteresis value
±0,5 %
Repeatability
0,1 %

Technical specifications

Data interface
CAN 2.0
Data rate
100, 300, 1000 kbps
Sampling frequency
1, 10, 100 Hz

Operational specifications

Dimensions
150×45×30 mm
Weight
300 gr
Device power supply
9 – 24 V
Consumed power
0,5 W
Operational temperature range
from -10 up to +60 °С
Product version
Standard (protection level IP63)

Electromagnetic compatibility (EMC)

IEC 61000-4-2, ESD
contact 8 kV, air 15 kV
IEC 61000-4-4, EFT
power 4 kV, signal 2 kV
IEC 61000-4-5, Surge
4000 V
Designation
of strain gauge transducer for deformation control ZET 7110 DT
ZET 7110 DT is a compact and user-friendly highly-sensitive digital strain-gauge transducer used for deformation control. It is suitable both for static and dynamic measurements. Digital strain gauge transducers ZET 7110 DT  have industrial leak-proof casing, which is resistive to dust, moist and shock impact.
The strain gauge is suitable for various long-term measurements and has high sensitivity to minor deformations occurring in the controlled structure. Strong magnets allow for fast and easy installation on magnetic surfaces of the controlled structures, which allows to reduce the time required for preparation to measurements performance.
Digital strain gauges ZET 7110 DT can be used as measurement nodes within the framework of a subsystem for monitoring of the stress-strain behaviour  and displacement of control points in engineering and technical structures. The subsystem in question is included into the scope of the Structural health monitoring system. The transducers are used for monitoring  and measurement of relative deformation and strain in piles, supporting walls, cross-bars, beams, columns, and other elements of building structures.
The strain gauges can be used as transducers for the control of cracks opening in concrete foundations. In this case, the installation is to be performed with the use of steel mounting plates (minimal clamping pressure is 2 kg) to be installed on the concrete foundation.
Operating principle
of strain gauge deformation transducer ZET 7110 DT
Digital strain gauge transducer ZET 7110 DT used for deformation measurements consists of a sensing element (strain gauge element with 125 mm foundation) and measurement module ZET 7110.
Each digital transducer of small deformations can be configured individually in compliance with the requirements appclicable to measurements. Parameters configuration is saved in the memory of measurement module ZET 7110. Thus, it is possible to start measurements without preliminary data processing and sensor configuration, as well as to obtain results in the relevant measurement units.
Basic configuration of digital strain gauge transducer ZET 7110 DT includes integrated cable with free contacts, which are connected to the measurement network via ZET 7001 coupling unit (it is included into delivery scope). Based on individual request, it is also possible to install 4-contact connector FQ14-4ZK-S to be used for connection to the measurement network (mating connector is included into delivery scope).
The transducers are installed on the controlled object, while the interface modules used for data acquisition are located in electrical cabinets.
Electrical cabinet produced by ZETLAB Company has compact dimensions if compared to currently available analogs. Advantages of ZETSENSOR modules include easy installation and de-installation, as well as indication of power supply and signal transmission, which considerably facilitates on-site diagnostics of the system:
Connection scheme
of the strain gauge deformation transducer ZET 7110 DT
In the course of the measurement system deployment, transducers ZET 7110 DT are sequentially connected to each other, and the resulting measuring chain is connected to PC interface converters: ZET 7174 (CAN ↔ USB), ZET 7176 (CAN ↔ Ethernet or Wi-Fi), or ZET 7177 (CAN ↔ GSM).  Indication of readings can be implemented with the use of digital indicator ZET 7178, while for the off-line recording of the signals there is used digital recorder ZET 7173.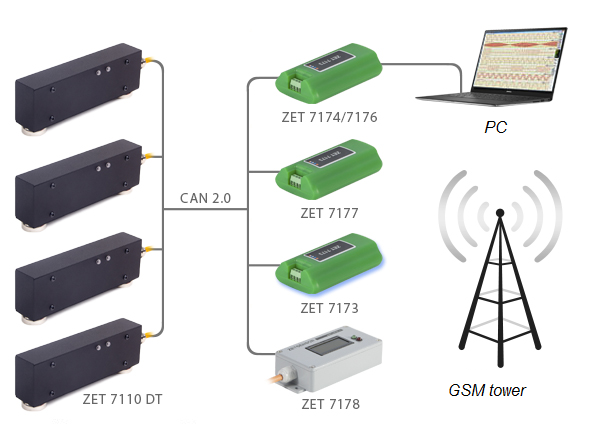 Module ZET 7174 allows to connect up to 32 transducers (actual number of transducers, which can be used depends on data channel use). ZETLAB Software allows to connect up to 200 digital transducers to a single PC.
for calculation of the required cable type for measurement networks deployment
Scheme of conection to the measurement line
Basic configuration
of strain gauge deformation transducers ZET 7110 DT
Basic delivery scope of the digital transducer includes:
digital strain gauge  ZET 7110 DT for deformation control with mounting magnets;
measurement line coupler ZET 7001;
set of operational documentation.