Mounting Zetsensor Modules
ZETSENSOR laboratory modules have plastic body with an integrated magnet for installing on metal surfaces with magnetic properties, thus ensuring prompt deployment of measuring systems with a small amount of sensors.

For installing digital modules on a DIN mounting rail, one can use mounting panels manufactured by ZETLAB. Magnetic holder of modules can withstand vibration load under the 102-1 test method with rigidity degree 6 (up to 5 g of sinusoidal vibration), under the 102-2 test method with rigidity degree 1 (up to 10 g of broadband vibration) in accordance with GOST 20.57.406-81*, thus ensuring seismic resistance in compliance with GOST 30546.2-98**.
*GOST 20.57.406-81 – Complex quality control system. Electronic, quantum electronic and electrotechnical components. Test methods
**GOST 30546.2-98 Seismic stability tests for machines, instruments and other industrial products. General guidance and test methods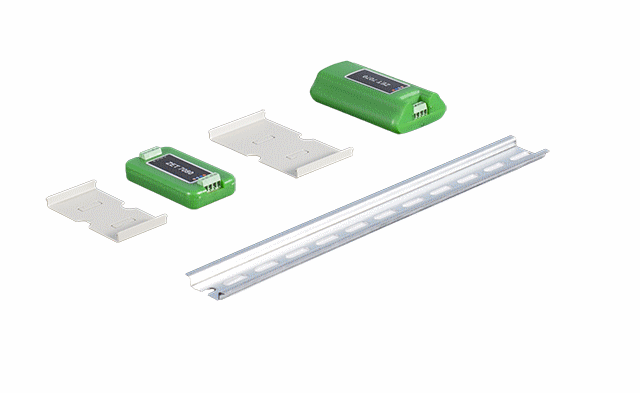 The fixed measuring systems, as well as systems with a large quantity of modules, typically require installing modules on DIN mounting rail in appliance boxes, shield panels, etc. With installation panels of two size options, you can easily install digital ZETSENSOR modules on DIN mounting rail, which allows building measuring systems of any complexity.
By purchasing a standard solution, the Customer gets a measuring system in form of measuring units which include a kit of digital modules installed on DIN mounting rail with required inter-module connection. At the same time, deployment of measuring system requires only placement of ready-made measuring units and connection of necessary primary converters to them.
Industrial version of ZETSENSOR modules (metal case) has mounting holes and grooves. To mount them, use screws, self-tapping screws, dowels, etc. (depending on material of the installation surface).