Piezoelectric converter of signal proportinal to the vibration speed RMS;
standard current output signal 4…20 mA;
used within vibration diagnostics systems as a vibration speed transducer;
explosion-proof version.
Technical specifications

Frequency range
10…1000 Hz
Conversion ratio of vibration speed into current signal  4-20 mA
0,44 – 0,55 mA×s/mm
Relative transverse sensitivity
< 5 %
Measured RMS range
0,1…30 mm/s
Intrinsic noise – RMS
< 0,05 mm/s
Maximum vibration acceleration (peak value)
50 m/s2
Temperature range
−40…+85 °C
Power voltage
9…36 V
Current loop impedance
0…250 Ohm
Casing material
stainless steel
Cable (standard length)
integrated, flexible metal hose, 2 m
Weight (without cable)
70 g
Supplied accessories
3 screws M4
The figure shows principal electrical scheme of BC 114 velocimeters.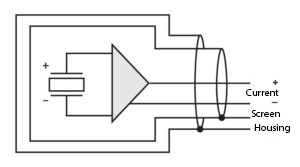 Integrated electrical amplifier enables conversion of the signal (proportional to the vibration speed RMS) from piezoelectric element to a standard current signal 4…20 mAA.
Connection scheme of BC 114 velocimeters
via power supply source


Connection scheme of BC 114 velocimeters
to ZET 7X80-I digital modules