Piezoelectric converter of signal proportinal to the vibration speed RMS;
standard current output signal 4…20 mA;
used within vibration diagnostics systems as a vibration speed transducer;
explosion-proof version.
Technical specifications

Frequency range
10…1000 Hz
Conversion ratio of vibration speed into current signal  4-20 mA
0,44 – 0,55 mA×s/mm
Relative transverse sensitivity
< 5 %
Measured RMS range
0,1…30 mm/s
Intrinsic noise – RMS
< 0,05 mm/s
Maximum vibration acceleration (peak value)
50 m/s2
Temperature range
−40…+85 °C
Power voltage
9…36 V
Current loop impedance
0…250 Ohm
Casing material
stainless steel
Cable (standard length)
integrated, flexible metal hose, 2 m
Weight (without cable)
70 g
Supplied accessories
3 screws M4
The figure shows principal electrical scheme of BC 114 velocimeters.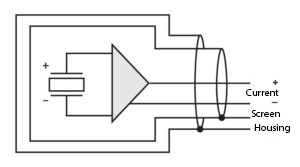 Integrated electrical amplifier enables conversion of the signal (proportional to the vibration speed RMS) from piezoelectric element to a standard current signal 4…20 mAA.
Connection scheme of BC 114 velocimeters
via power supply source


Connection scheme of BC 114 velocimeters
to ZET 7X80-I digital modules

Data protection notification
Please note that the personal data provided by you is used exclusively for the purposes of fulfilling our contractual obligations, including, but not limited to: issuing invoices, delivery documents, documentation relating to customs clearance process, etc. We do not provide your personal data to any third party except for the purposes relating to our direct contractual obligations. Upon completion of order processing and expiry of the warranty period for the Products provided by our Company, we do not store or process any of your personal data. Please note, that our Company's Confidential policy does not imply any advertising or marketing activities with the use of your personal data (including your Company name, address, your E-mail, phone number and other information provided by you with a view to placing an Order and organization of the Delivery).