Vibrating wire interface ZET 7082
Signal reading, digitization and transmission of a signal vibrating wire strain gauge
Data logger functionality may be added
RS-485 data interface
SPECIFICATIONS
of Vibrating wire interface ZET 7082
Technical specification

Measured value
frequency, temperature, deformation, strain
Type of connected sensors
vibrating wire strain gauge
Measuring frequency range
from  400 to 6000 Hz
Refresh rate
1 Hz
Data interface
RS-485
Data rate
4800, 9600, 14400, 19200, 38400, 57600, 115200 bit/s
Parity control
0 – no control; 1 – control (oddity, ODD)
Data communication protocol
Modbus RTU

Operational characteristics

Dimensions
87×50×24 mm
Weight
55 gr
Device power
9 to 24 V
Power consumption (without primary transducer)
0,5 W
Polarity reversal protection
yes
Operation temperature range:
Standard
Industrial
+5 to +40 °C
-40 to +80 °C

Electromagnetic compatibility EMC

MEK 61000-4-2 (IEC 61000-4-2), ESD
contact 4 kV, air 8 kV
MEK 61000-4-4 (IEC 61000-4-4), EFT
power 0,5 kV, signal 0,25 kV
MEK 61000-4-5 (IEC 61000-4-5), Surge
500 V
Parity control is not supported in the mode EVEN. Modbus ASCII – not supported.
Principle of operation
of Vibrating wire interface ZET 7082
The measuring part of vibrating wire interface ZET 7082 has one channel to connect a stringed transducer connection. Together with a sensor, they form a digital sensor to measure various parameters.
The vibrating wire strain gauge converts a physical value to the electric signal while vibrating wire interface ZET 7082 digitizes this signal and outputs the measured variable value in a digital form. Measurement results are transmitted via the RS-485 interface using the Modbus protocol. In combination with other sensors, ZETSENSOR series sensors form measuring lines to monitor engineering systems.
The sensors are fixed on a measurement object, in a sealed box or electric cabinet. The interface modules for data transmission are installed in a sealed box or a ZETLAB electrical cabinet.
The advantages of ZETSENSOR modules are easy installation and uninstallation, the indication of power supply and signal transmission which, in its turn, facilitates diagnostics of the system on a site.
Basic configuration
of Vibrating wire interface ZET 7082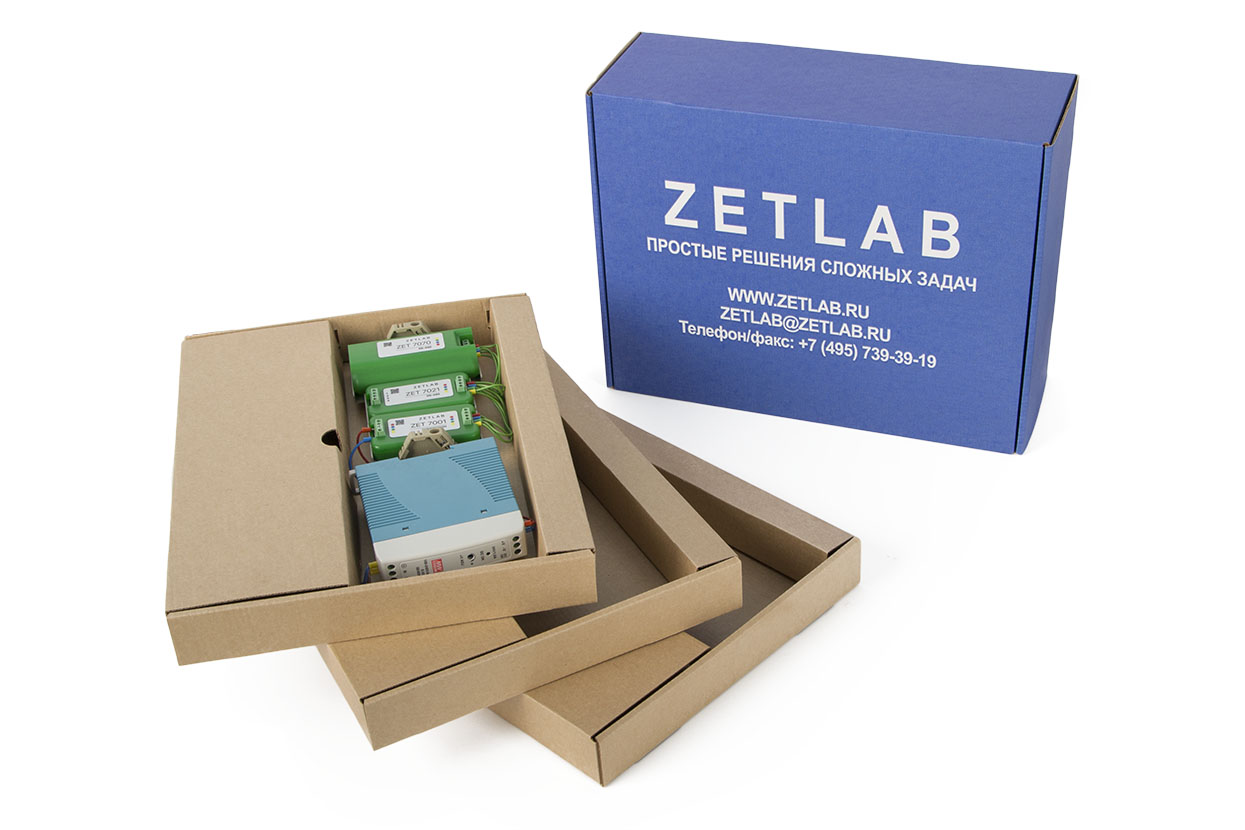 The basic delivery scope includes:
vibrating wire interface ZET 7082;
DIN installation panel for 71×39 mm plastic modules;
operation documentation package.
Data protection notification
Please note that the personal data provided by you is used exclusively for the purposes of fulfilling our contractual obligations, including, but not limited to: issuing invoices, delivery documents, documentation relating to customs clearance process, etc. We do not provide your personal data to any third party except for the purposes relating to our direct contractual obligations. Upon completion of order processing and expiry of the warranty period for the Products provided by our Company, we do not store or process any of your personal data. Please note, that our Company's Confidential policy does not imply any advertising or marketing activities with the use of your personal data (including your Company name, address, your E-mail, phone number and other information provided by you with a view to placing an Order and organization of the Delivery).