Digital accelerometer ZET 7152-N Pro
digital transducers for industrial vibration measurements;
high interference immunity;
programmable measurement range;
CAN 2.0 interface.
Specifications
of Digital accelerometer ZET 7152-N Pro
Specifications of instant values measurement mode 

Measurements range (to be set in the software)
±2 g, ±8 g
Displacement at 0 g
±25 mg
Frequency range, 5%
from DC up to 800 Hz
Measurement error (non-linearity, intrinsic noise level)
±0,05 g
Displacement at 0 g, additional (attributed to temperature fluctuations)
±0,2 mg/10°С
Measurement error, additional (attributed to temperature fluctuations)
± 0,1 % of the measurement range per 10°С
Interaxial sensitivity
1 %
Data update rate**
250, 2500 Hz

Technical specifications

Data interface
CAN 2.0
Baud rate
100, 300, 1000 kbps
Operability control in real-time mode
Synchronization quality, data quality
Measurement reliability check
Sensing element integrity control

Operational specifications

Power supply of the device
9 – 24 V
Consumed power
0,2 W
Polarity reversal protection
yes
Dimensions (height× diameter)
22×Ø47 mm
Weight
200 gr
Operational temperature range
from -40 up to +80 °С

Electromagnetic compatibility (EMC)

IEC 61000-4-2, ESD
contact 8 kV; air 15 kV
IEC 61000-4-4, EFT
power 4 kV; signal 2 kV
IEC 61000-4-5, Surge
4000 V
* Mutual dependence of the vibration parameters
** Compression algrithm: delta coding with the possibility of data traffic distribution between the CAN-network transducers
Designation
of digital accelerometers ZET 7152-N Pro
Digital accelerometer ZET 7152-N Pro is intended for vibrational acceleration recording in the scope of stationary systems used for control of the industrial machinery vibration. This digital accelerometer is perfectly suitable for permanent installation and long-term monitoring in the real-time mode.
The accelerometers are mounted on the controlled object and thus form the measurement lines. Compact dimensions of the transducers allow to implement vibration monitoring in hard-to-reach areas.
The system based on these digital transducers is scalable, which means that it can be expanded by means of adding additional transducers to the measurement line.
Connection schemes
of digital accelerometers ZET 7152-N Pro
It is especially convenient to use the digital transducers for deployment of distributed measurement networks. The difference from the traditional centralized measurement networks is that there is no need to use "wye"-type connection, which allows to considerably reduce the overall length of the measurement networks. Since the data is transmitted in digital form, there are less requirements to the data channel, and it is also possible to use relatively inexpensive cables.
In the course of the measurement network deployment, transducers ZET 7152-N Pro are to be connected sequentially, and the resulting measurement line is connected to the PC  with the use of interface converters: ZET 7174 (CAN ↔ USB), ZET 7176 (CAN ↔ Ethernet или Wi-Fi), or ZET 7177 (CAN ↔ GSM).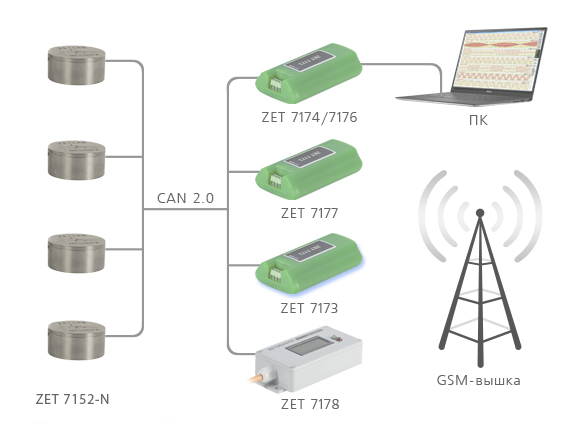 Scheme of connection to the measurement line
Basic delivery scope
of digital accelerometers ZET 7152-N Pro
Basic delivery scope includes the following items:
digital transdcer ZET 7152-N Pro;
set of operational documentation.