The acoustic emission sensor is the most important element of any acoustic emission NDC system. The ZET 601 acoustic emission transducer converts AE-process acoustic signal to an electric signal parameters of which are used for the assessment of acoustic emission sources.
They are used for technical diagnostics using passive ultrasound.
Specifications
of the ZET 601 Acoustic Emission Transducers
Technical Specifications

Type
broadband
Amplifier
w/o preamplifier
Electroacoustic conversion factor
>45 dB, rel. 1 V/m/sec
Operating frequency
300 kHz (corresponds to
minimum sensitivity)
Bandwidth
10 ~ 800 kHz
Electric capacity
350 ~ 450 pF
Insulation resistance
> 100 MOhm
Temperature range
−40 ~ +150 °C
Body material
stainless steel
Integrated cable length is determined at order (standard length is 0.5 m)
0.5 m
Grounding
body is grounded
Contact surface material
ceramics
Body diameter x height
22.5×15.5
Weight (w/o cable)
17
Connector type (determined at order)
SMA (BNC)
Main Application Fields
of the ZET 601 Acoustic Emission Transducers
Oil&gas and chemical industries;
Pipe-rolling and metallurgical facilities;
Aerospace engineering;
Concrete and reinforced concrete structures;
Heat and nuclear energy industry;
Rail-road transport;
Lifting structures;
Bridge structures.
Connection Diagram
of the ZET 601 Acoustic Emission Transducers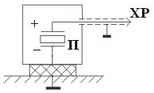 The common lead is electrically connected to the transducer body. To insulate the transducer from the object body, a ceramic disk of aluminum oxide is used (Al2O3).
Usually, the transducer is installed on the object to be controlled using special bandages, magnetic or other types of fixings; the contact surface with the bottom is lubricated with a liquid lubricant. In some applications, AE transducer is fixed on a wave guide.
Connection to the FFT Spectrum Analyzer
of the ZET 601 Acoustic Emission Transducers
Digital Acoustic Emission Sensor
The acoustic emission transducers completed with the ZET 7140-E AcousticEmisson-CAN measuring unit to form a digital acoustic emission transducer which measures AE parameters and transmits ready data via CAN interface. The data can also be transmitted via a radio channel.