Modal Analysis is used for analyzing pulse and transition characteristics of signals coming from the input channels of FFT spectrum analyzers and seismic stations in real time or recorded time realization view mode.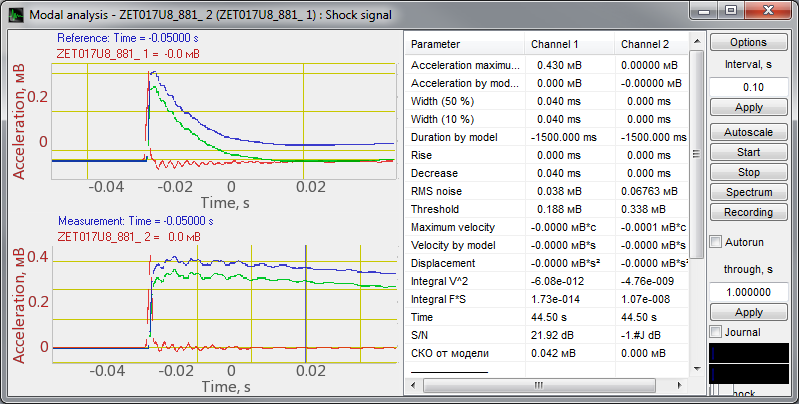 The program helps to determine the natural frequencies and logarithmic decrements of free vibrations of mechanisms and structures by means of impact excitation impact. The additional window Spectrum displays the spectral characteristics of signals from reference and measuring channels as an impact spectrum or a spectrum based on Laplace transform. Thus, Modal Analysis can be used for inspection of building structures according to IEC 60068-2-81:2003 «Environmental testing – Part 2-81: Tests – Test Ei: Shock – Shock response spectrum synthesis» to obtain impact spectra and calculate the main tone of natural vibrations and logarithmic decrement of the main tone of natural vibrations.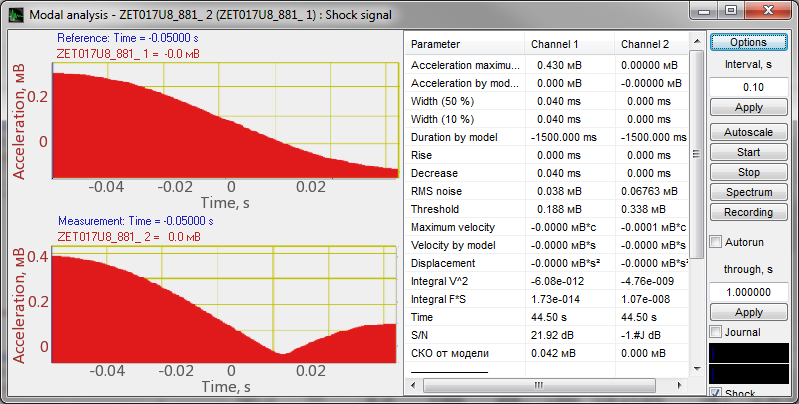 Modal Analysis is used for processing and visualization of a vibrational signal and its spectra, automatic determination of natural frequencies, phases, ratios of peak amplitudes of two signals and damping decrement of various mechanisms, parts, structures, and other items by measuring free vibrations by impact excitation.