Acoustic emission transducer is a key element of non-destructive acoustic emission testing. Transducers GT 200 are used for technical diagnostics by means of passive ultrasound.
SPECIFICATIONS
of acoustic emission transducer GT200
Technical specifications

Type
resonant
Amplifier
without preamplifier
Electroacoustic transfer factor
> 60 dB rev. 1 V/m/s
Working frequency
165 kHz
Bandwidth
130…200 kHz
Capacitance
400…500 pF
Insulation resistance
> 100 MOhm
Temperature range
−40…+150 °C
Housing material
titanium alloy
Length of the integrated cable (determined upon Order placement)
0,5 m (standard)
Weight (without the cable)
15 g
CONNECTION DIAGRAM
of acoustic emission transducer GT200
Acoustic emission transducer GT200 converts acoustic signal into electrical signal, parameters of which are used for acoustic emission source evaluation.
Connection: via amplifier GT200A or ZET 440 to FFT Spectrum Analyzer A19-U2.
DIGTAL ACOUSTIC EMISSION TRANSDUCER
Acoustic emission transducer and measuring module ZET 7140-E AcousticEmisson-CAN form a digital acoustic emission sensor, which enables measurement of acoustic emission parameters and data transfer via CAN interface. It is also possible to transfer the data via radio-channel.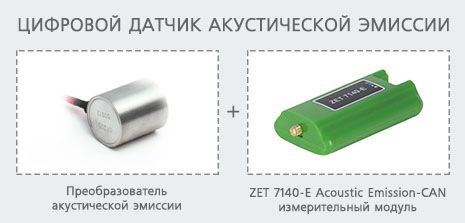 Connection to PC: via USB, Ethernet, GSM, radiochannel: