Strain gauge amplifier ZET 052
Measuring strain gauge amplifier ZET 052 is intended for amplification and conversion of the strain-gauge transducers' input signals:
2 input channels;
amplification ratios: 1, 10, 100;
differential input;
power supply voltage of the transducer: 2,5 V; 5 V; 10 V;
initial imbalances compensation.
Specifications
of the strain-gauge amplifier ZET 052
Technical specifications

Input specifications
Amplification ratio
amplification ratio=1
amplification ratio=10
amplification ratio=100
Number of channels
2
Input type
differential
Input voltage range
±10000 mV
±1000 mV
±100 mV
Maximal admissible in-phase voltage at the inputs
±9 V
Power supply of the strain-gauge transducer
Power supply voltage
2,5 V
5 V
10 V
Power supply voltage error (max.)
0,25 %
Maximal current value
50 mA
Output specifications
Output signal range
from -10 up to +10 V
Maximal output current
10 mA
Zero balancing
Balancing range (applied to the input)
from -200 up to 200 mV
from -20 up to 20 mV
from -2 up to 2 mV
Accuracy of the set value (applied to the input)
±1,5 mV
±0,15 mV
±0,015 mV
Calibration
Type
bypassing
Bypass resistance
51 kOhm
Accuracy of bypass resistance
1 %

Metrological specifications 

Frequency range
from DC up to 20000 Hz
Intrinsic noise level (applied to the input)
15 µV
2 µV
1 µV
AFR unevenness in the operation frequency range
0.25 dB

Operational specifications

External DC power supply module voltage
12 V
Consumed current, max.
300 mA
Operating temperature range
from 5 °С up to 40 °С
Description
of the strain-gauge amplifier ZET 052
Measuring strain-gauge amplifier ZET 052 is represented by 2-channel DC amplifier with differential output, adjustable amplification ratio, and power supply voltage. This instrument is intended for connection of the strain-gauge transducers, amplification, and transmission of the analog output signals to the measurement unit. The principal task of the strain-gauge amplifier is to increase the output signal level from several mV up to several V. In this particular example, we use balancing, i.e. compensation of the initial offset of bridge or transducer within the limited range. In addition to that, there is also used calibration (also referred to as "gauging"), i.e the known offset value allows to evaluate sensitivity level of the measuring circuit.
Amplifier ZET 052 can also be used for static and dynamic measurements of loads, deformations, torque, temperature, and other physical values.
Simple controls and compact dimensions allow to integrate this module into various multi-channel data acquisition systems, while the analog output can be connected to the FFT Spectrum analyzer or ADC module.

Basic configuration
of the strain gauge amplifier ZET 052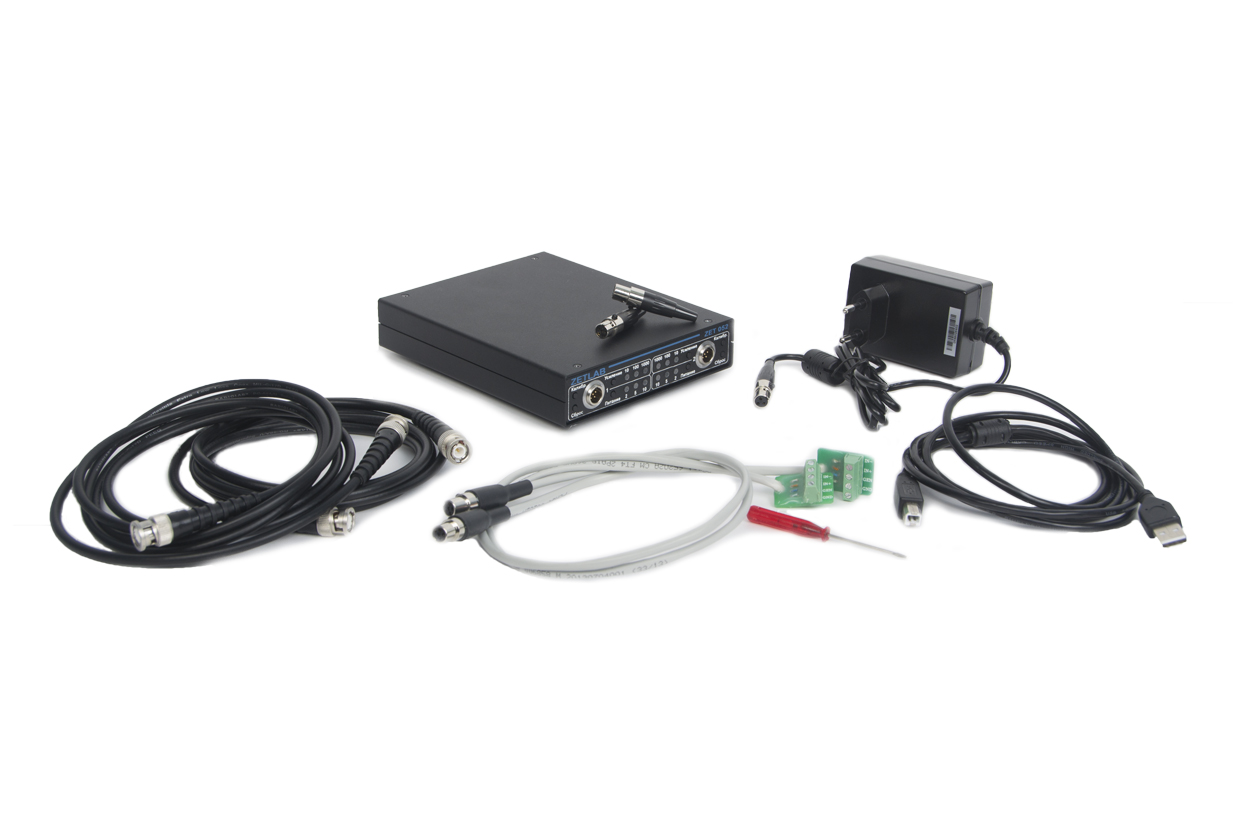 The basic delivery scope of measuring strain gauge amplifiers ZET 052 includes:
ZET 052 strain-gauge amplifier;
power supply module 220V →12V;
USB cable;
BNC-BNC cable (length: 0,6 m) 2 pcs.;
terminal cable – 2 pcs.;
plug 2 pcs.
Data protection notification
Please note that the personal data provided by you is used exclusively for the purposes of fulfilling our contractual obligations, including, but not limited to: issuing invoices, delivery documents, documentation relating to customs clearance process, etc. We do not provide your personal data to any third party except for the purposes relating to our direct contractual obligations. Upon completion of order processing and expiry of the warranty period for the Products provided by our Company, we do not store or process any of your personal data. Please note, that our Company's Confidential policy does not imply any advertising or marketing activities with the use of your personal data (including your Company name, address, your E-mail, phone number and other information provided by you with a view to placing an Order and organization of the Delivery).