ZET 452 MP — EXTENSION UNIT
for the electric circuit parameter control device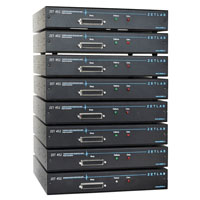 The ZET 452 MP extension unit improves the capabilities of electric circuit parameter control devices:
increases the number of measuring circuits;
makes it possible to build distributed systems for cable networks checking.
SPECIFICATIONS
of the ZET 452 MP Extension Units
GENERAL SPECIFICATIONS

Switched terminals of measured circuits
72
Maximum consumed power
70 W

OVERALL DIMENSIONS AND WEIGHT

Weight
3.0 kg
Overall dimensions (Length×Width×Height)
302×260×72 mm
Features
of the ZET 452 MP Extension Units
The ZET 452 MP extension unit is intended for increasing the number of channels for checking electric circuits. One ZET 452 electric circuit control device allows for connection of up to 7 ZET 452 MP extension unit, thus increasing the number of channels from 72 to up to 576.
Increasing the number of channels using the ZET 452 MP extension units can be used to build automated workplaces for cable products testing. One ZET 452 electric circuits control device and several (up to 7) ZET 452 MP extension units synchronize forming an electric circuit test bench. The terminals of a device to be tested are connected to ZET 452 and ZET 452 MP via a switching device (adapter harness). Circuit checking can be performed between any terminals of the device being tested, including the terminals connected to different units of a single bench. Measurements are performed automatically following a pre-set scenario (table of circuits to be checked) in the "Electric circuit control" program.
Data protection notification
Please note that the personal data provided by you is used exclusively for the purposes of fulfilling our contractual obligations, including, but not limited to: issuing invoices, delivery documents, documentation relating to customs clearance process, etc. We do not provide your personal data to any third party except for the purposes relating to our direct contractual obligations. Upon completion of order processing and expiry of the warranty period for the Products provided by our Company, we do not store or process any of your personal data. Please note, that our Company's Confidential policy does not imply any advertising or marketing activities with the use of your personal data (including your Company name, address, your E-mail, phone number and other information provided by you with a view to placing an Order and organization of the Delivery).