Evaluation of the vibration noise level
Evaluation of the shaker table vibration noise level is performed by means of the program "AC voltmeter" (figure 1) when the shaker is enabled, but there is no excitation signal applied.


Figure 1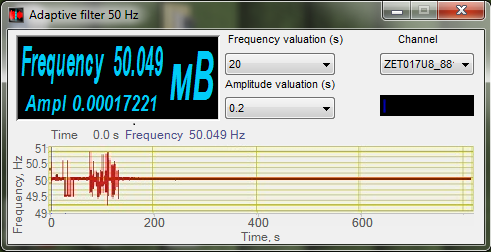 Figure 2
From many years of experience in vibration tests performance, it follows that the noise of the vibration exciter (shaker) lies within the range of 0,05-0,5 g. This parameter depends on quality of the vibration exciter, its structural features and manufacturing processes specifics, as well as on the quality of grounding of all the components in the scope of vibration and measuring instruments suite.
The 50 Hz interference often influences the quality of vibration noise (as well as vibration acceleration in general) measurements. In order to exclude or eliminate this interference, it is necessary to use the program "Adaptive filter 50 Hz" (figure 2), which allows to implement 50 Hz band-stop filter. The program creates an additional virtual channel, in which the 50 Hz interference an corresponding harmonics are excluded.
For evaluation of vibration noise level at the shaker table, one can use the program "DC voltmeter" (figure 1). The vibration exciter should be enabled, but there is no need to apply the excitation signal to it.