Acoustic emission transducer is a key element of non-destructive acoustic emission testing. Transducers GT 301 are used for technical diagnostics by means of passive ultrasound.
Specifications
of acoustic emission transducer GT301
Technical specifications

Type
wide-band
Amplifier
without preamplifier
Electroacoustic transfer factor
> 55 dB rev. 1 V/m/s
Working frequency
220 kHz
Bandwidth
50…500 kHz
Capacitance
150 pF
Insulation resistance
> 1 MOhm
Temperature range
−40…+120 °C
Housing material
titanium alloy
Length of the integrated cable (determined upon Order placement)
0,5 m (standard)
Weight (without the cable)
14 g
Connection diagram
of acoustic emission transducer GT301
Acoustic emission transducer GT301 converts acoustic signal into electrical signal, parameters of which are used for acoustic emission source evaluation.
Connection: via amplifier GT200A or ZET 440 to FFT Spectrum Analyzer A19-U2.
DIGTAL ACOUSTIC EMISSION TRANSDUCER
Acoustic emission transducer and measuring module ZET 7140-E AcousticEmisson-CAN form a digital acoustic emission sensor, which enables measurement of acoustic emission parameters and data transfer via CAN interface. It is also possible to transfer the data via radio-channel.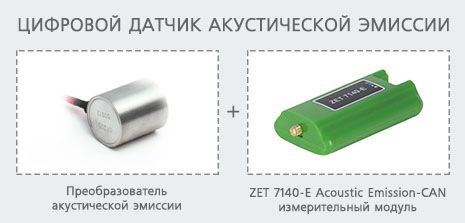 Connection to PC: via USB, Ethernet, GSM, radiochannel: