Strain Gauge Meter is used for all kinds of strain-gauge measurements using strain gauge sensors (e.g. force sensors, torque sensors, bridge and semi-bridge connections on resistance strain gauges) and a strain-gauge station ZET 017-T.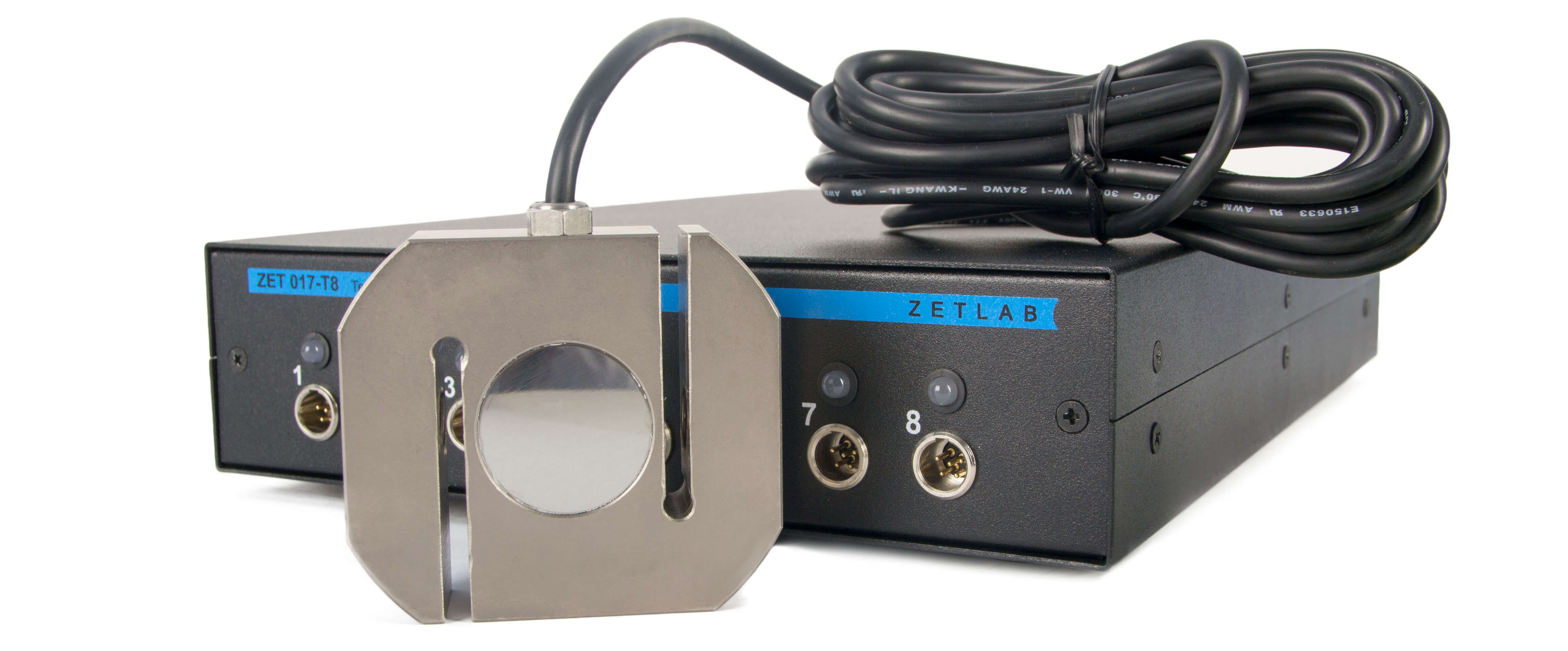 Depending on the Strain Gauge Meter program settings, measurement results can be represented as force, weight, displacement, torque, and other parameters. The sensor can be powered by an integrated strain-gauge station generator.

Strain Gauge creates a virtual channel containing the measurement results. It can be used in all ZETLAB programs, as well as in applications created in SCADA ZETVIEW. The figure below shows the strain gauge operating results on the oscillograph.
The upper diagram shows strain-gauge sensor signal (the sensor is powered by AC current). The second figure depicts Strain gauge meter program operation results.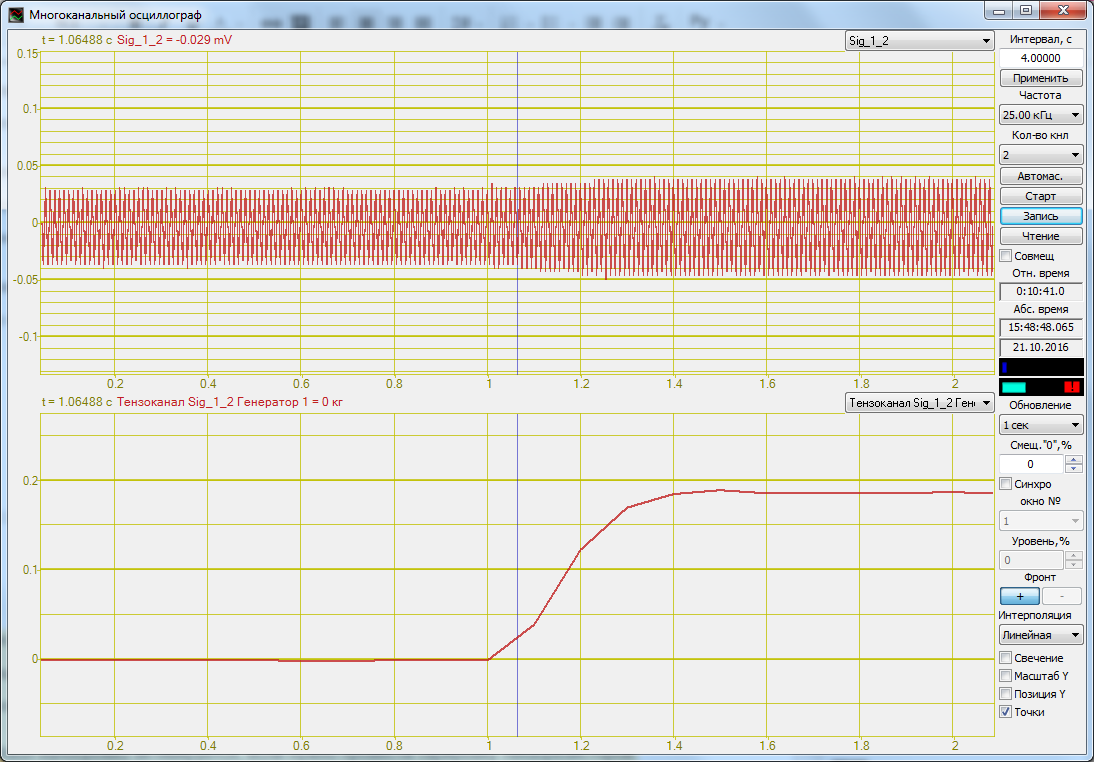 Strain Gauge Meter: Configuration
Measuring channels settings are available in the dialog window "Measuring unit parameters" which is activated by "Parameters" key in the Strain gauge meter window.
"Measuring unit parameters" clause contains three fields: "Parameters", "Strain gauge meter" and "Strain gauge sensor".
The section "Parameters" allows to set general characteristics of the measuring complex:
Feed current – strain gauge station integrated generator power supply options (AC/DC);
Readings – absolute or relative (if relative readings are selected, it is necessary to choose the measuring and basic channel);
Measuring unit;
Smoothing, ms – time period required for measured values averaging. Single measuring cycle interval is 100 ms, the set smoothing time should be divisible by 100 ms;
Readings inversion – is used when it is necessary to obtain measuring results in different values;
Amplification ratio – measuring channel amplification in 1, 10, 100 or 1000 times. When the amplification ratio is changed, the signal integral level indicator will show how far the strain gauge station available measurement range is filled by the present input signal.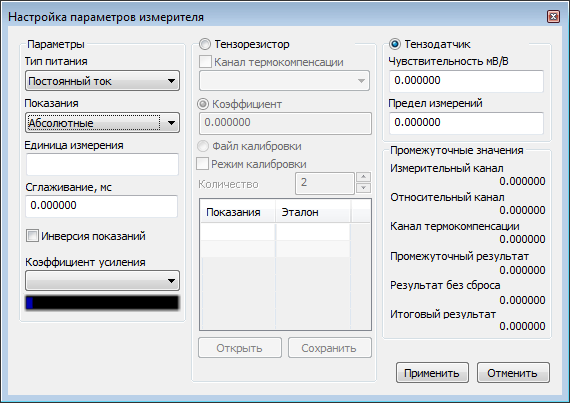 If resistive strain gauges are used as sensing elements, the parameters setting should be performed in the corresponding section "Resistive strain gauge" (in this case the section "Strain gauge sensor" becomes inactive).
The settings also allow setting a thermal compensation channel in the case if it is necessary (i.e. the user can set a channel for temperature ratio control). The value obtained will be considered in the course of measurements performance.
When using resistive strain gauges it is necessary to determine measurements process procedure – to do this, one can select Ratio or Calibration file options.
In order to perform measurements of relative deformation, strain or other value having a linear dependence on resistive strain sensors resistance value change, it is necessary to set resistive strain sensitivity ratio, calculated for the particular connection scheme.
If it is required to perform measurement of weight, force and other physical values that have a non-linear dependence on resistive strain gauge resistance value, or when it is difficult to calculate resistive strain ratio, one can use calibration table for corresponding calculations. To do this, one should activate Calibration file field and whether set the supplied load values and Strain gauge meter data into calibration file or open an already existing file containing calibration table.
As the Calibration file is activated, the user can switch over to Calibration mode. To do this, one should check the corresponding box. In the calibration mode, one should use absolute values.
Switching over to calibration mode is accompanied by color indication change (from blue to red). Registered values correspond to the voltage level at the resistive strain gauge output. Thus, it is possible to perform consecutive sensing element calibration by setting reference impact and by registering corresponding voltage level displayed at Strain gauge meter indicator.

The field Readings of the calibration table can be filled automatically: by right-clicking the reference value  → Use indicator data.
It is also possible to save calibration table for further use.
As the calibration is completed, uncheck the field Calibration mode and save the changes with the Apply key.
In the case if the strain gauge sensor is used as a sensing element, the parameter settings are available in the corresponding field "Strain gauge sensor" (The section "Resistive strain gauge" will be deactivated).
Strain gauge sensors have two settings options:
Sensitivity, mV/V;
Measurement limit – maximum deformation value that can be detected by the sensor.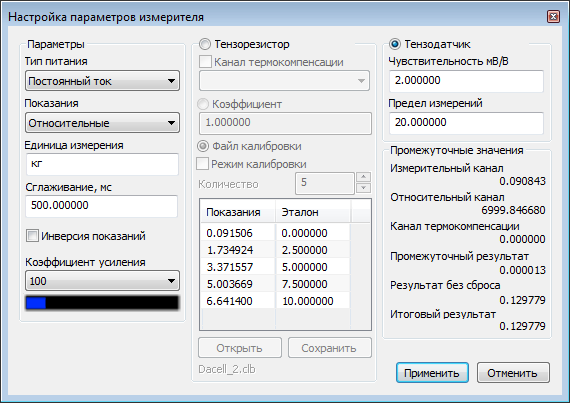 The field Intermediate values is used for sensor element performance diagnostics at any time. It shows the measurement channel and the reference channel (for resistive strain gauge – generator channel) value, thermal compensation channel value (it is depicted when the resistive strain gauges are used), intermediate value, value without reset (valid values), final values (in the case of thermal compensation use or activation of Set to zero function the results will be shown based on these parameters; otherwise they will be equal to values without reset).
As all the parameters of strain gauge meter system are set, one should activate the key "Apply" in the right bottom part of the window in order to save the set configuration parameters.
Input data for Strain Gauge includes digital data of the ZETLAB server channel which is the output signal of strain gauges, tension and compression force sensors, bridge connections. For digitalization of analog signals, ZET 017-T8 strain-gauge station is used.
Strain Gauge refers to the Measurement software group.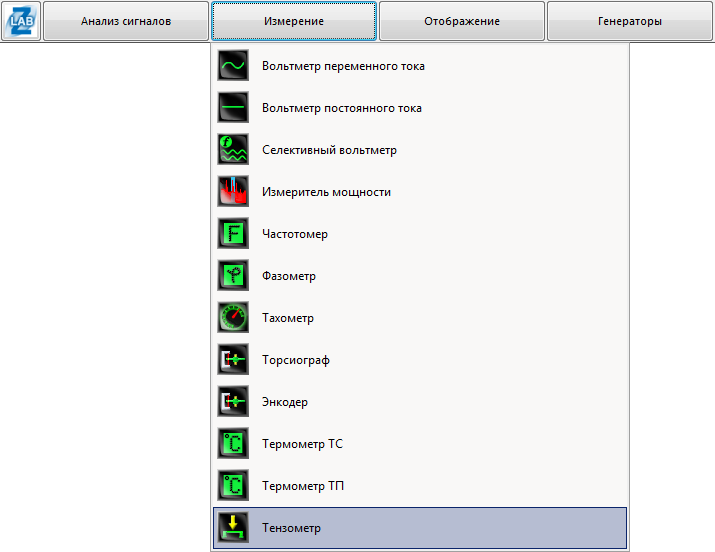 Strain Gauge is a part of the ZETLAB TENZO software package for the strain-gauge stations.
Strain Gauge Measurement: Additional Information