Ready-made solutions
based on spectrum analyzers and strain-gauge stations
The multifunctional nature of the spectrum analyzers allows using them for a wide range of tasks, which implies the connection of sensors of various types to a single device. Since the different sensors have different connection diagrams, sometimes it is necessary to use the adapter, which does not add to reliability and usability of the system. If you face a clear task with the known number of parameters, we are ready to offer you a solution on a turnkey basis based on the device most suitable for you: a spectrum analyzer, a strain-gauge station, a seismic station etc. Such measuring system may have from 4 to 164 measuring channels. The connector type for each of the channels is determined by the type of the connected sensor.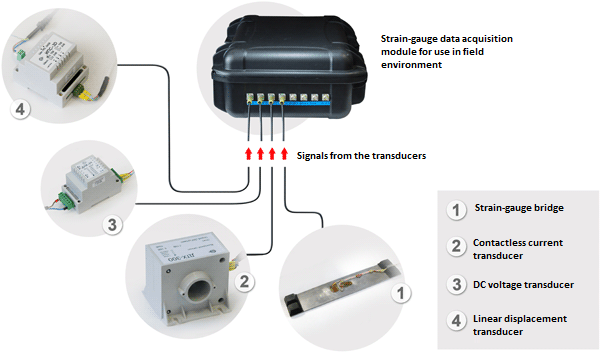 Design variants of the measuring systems on a turnkey basis:
office — In this case, the purchased spectrum analyzer will differ from the device in a standard configuration only by the connector types,
industrial — the spectrum analyzer manufactured in an industrial-type body frame,
in a protection casing — the given design allows to use the measuring system both in laboratory and in field. In fact, the spectrum analyzer is made in the office design with the input channels of a desired type that are duplicated on the protection casing. When the spectrum analyzer is placed in the casing, it can be used in the conditions of high / low temperature and high humidity, furthermore – the casings have protection against dust and stroke impacts.