Zetlab Company keeps up with the times and manufactures measuring equipment and a software for automated processing of measured values in the course of vibro-acoustic analysis, strain and seismic measurements.
Specialized software provides the user with all necessary analysis tools for particular sphere of activity including recorders of source data and measurements results.
ZETLAB software is a kind of virtual laboratory equipped with powerful tools for visual representation, spectral analysis, electrical parameters measurement, signal generation, recording and reproducing.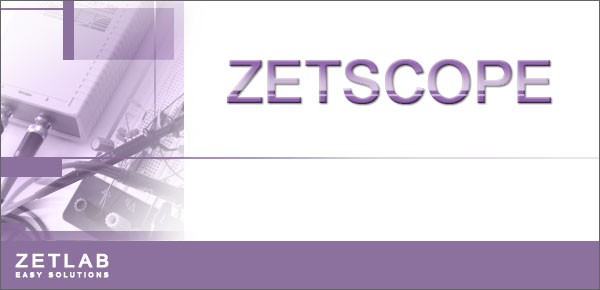 Dedicated software for ZET 302 USB – oscillograph
If you face the task of establishing virtual measurement system meeting your requirements you should choose  ZETLAB STUDIO!
ZETLAB STUDIO –  is an integrated set of tools and libraries similar to Labview for Visual Studio, NET, Visual Studio 6.0, Borland Delphi, that are used for measurement and automation tasks.
ZETLAB STUDIO components enable simplification of user applications creation for signal measurement and processing and have all necessary features for powerful measurement systems creation.  With minimal efforts and time you can establish a really universal application necessary for solving your particular task. Any updates required? Everything is simple: add ZETLAB STUDIO components to your applications and receive signal processing results!
Software localization option
Upon request we can provide you with Software localization services
Our aim is a long-term cooperation with our customers. We constantly improve our software products by adding new functions. This does not mean that you will have to purchase Software updates. All necessary files are available for downloading from our  ftp-server.
All you need to do is to download setup file from our server and to keep on using the same equipment with an extended set of functions!
If you want to check new developments of ZETLAB software you can install beta-version from our ftp-server. Be the first to learn about new functions of our Software.
Software update procedure is described in the Clause Software updates, system requirements for installation of ZETLAB software are available in the Clause PC requirements.
When you install the drivers in Win 7 you may see a warning depicted in Figure 1. It is caused by the fact that the drivers are assigned via algorithm sha 256 which is not fully supported in Win7 in the case if it has not been updated for a long time (the drivers nevertheless are correctly assigned and are ready for operation).
The digital signature can be checked using file explorer by choosing one of the files (for instance, "C:ZETLabdriverszetusb64.cat"  or "C:ZETLabdriversamd64Kdu8500.sys") and viewing its Properties (Figure 2). If you continue to install the drivers (option "Install the driver anyway"), the drivers will operate in a normal way without any warning messages. However, it is still recommended to install updates for OS Win7.
Any difficulties relating to Software updates, Software use or programming? We will do our best to response to each request of our user. We also offer you to visit one of the clauses listed below.
Our specialists will give you detailed assistance in solving any issue.