ВС 312 UNDERWATER/THREADED HYDROPHONE
hydrophone with two-wired ICP connection;
screened and isolated from environment;
monitoring and diagnostics of liquid pipeline systems;
inspecting subsurface part of sonar structures.
High-sensitivity multicomponent phased hydroacoustic systems for signal source detection and localization.
SPECIFICATIONS
of ВС 312 underwater/threaded ICP hydrophones
SPECIFICATIONS

Designation
ВС 312
Version
underwater
threaded
Nominal sensitivity
250 mkV/Pa
200 mkV/Pa
Sensitivity level (relative to 1V/µPa)
-192 dB
Frequency band
20…20,000 Hz
Self-noise*, RMS
0.02 Pa
Maximum value of measured sound pressure range
50 kPa
Limit static line pressure
4 MPa
7 MPa
Output direct voltage level
10…13 V
Power
ICP
Supply voltage
+(18…30) V
Supply current
3 mA
Explosion-proof version
—
upon request
Casing material
stainless steel
Dimensions (length × casing diameter)
173 × ⌀23 mm
171 × ⌀23 mm
Coupling thread
—
М20×1.5
Weight (without cable)
Cable standard length
10 m
2 m
Maximum cable length
100 m
Cable outer diameter
10,2 mm
Cable type
coaxial, PVC coating, central wire, screened, resistive to environment containing sulfuric acid
Cable plug
BNC
Measurements operation environment
water, air, oil and oil products, natural gas
Operating environment temperature
0…+60 °С
Environment air temperature
−60…+80 °С
*  Intrinsic noise at the input within the frequency range of 10 Hz from the frequency range upper limit
Hydrophones ВС 312 are dynamic pressure transducers with even response curve for the whole range of frequencies observed in any homogeneous medium, including air, sea and fresh water.
Hydrophones ВС 312 are used to determine explosion pressure up to 1,000 kPa, pulse duration 2-5 ms (time sensitivity: some 0.1 ms).
Hydrophones ВС 312 are used in hydroacoustics for reading-through underwater signals and noise, for measuring purposes, and also as components of beamed receiver hydroacoustic antennas.
Hydrophones ВС 312 can be supplied without integrated amplifier, in such case it can be used as sonar transmitter.
CONNECTION DIAGRAM
of ВС 312 underwater/threaded ICP- hydrophones
Hydrophones ВС 312 are connected directly to FFT spectrum analyzers.


Hydrophones ВС 312 support transducers scanning technology TEDS (Transducer Electronic Data Sheet), which allows spectral analyzer to automatically determine transducer type and sensitivity, in accordance with IEEE P1451.4 standard.
FREQUENCY RESPONSE
of ВС 312 underwater/threaded ICP hydrophones
Frequency response characteristics of Hydrophones ВС 312 in receiver mode are shown in the chart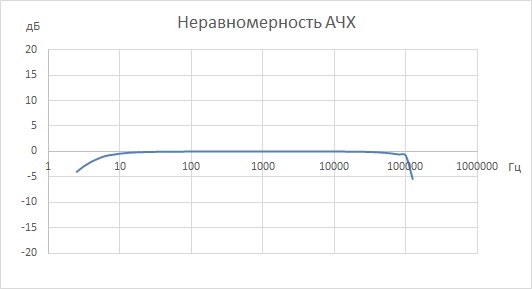 FEATURES
of ВС 312 underwater/threaded ICP hydrophones
ВС 312 are piezoelectric hydrophones with piezoceramic sensing element.
To enhance sensitivity, and to eliminate cable shunting effect, a pre-amplifier is used in Hydrophone ВС 312. It is mounted in one casing with receiver and then is immersed into the water on cable together with it.
Application scope
of underwater / threaded ICP-hydrophones ВС 312
Leakage detection and control


Vibration control system, hydraulic equipment monitoring and diagnostics