Mounting and Dismantling
Accelerometers and Seismic Receivers
Accuracy of measurement results depends on many factors: measurement techniques, precision of measuring equipment, selected measuring points, types of fastening. This section contains recommendations on vibration sensors and seismic receivers mounting.
By Mounting On the Object Under Test, There Are the Following Types of Transducers:
with threaded hole for pin VS 110, VS 111, VS 201, VS 202; due to small sizes these sensors can be fixed with mastic or glue;
with rectangular magnets for mounting on pipes of any diameter VS 120-CM, VS 131; fastening on setting compound;
with a flange with screw holes VS 1313; for installing into soft soil, an intermediate mass or pins are frequently used.
Mounting and Dismantling Sensors
During the installation of sensors on thread pin, deviation from the threaded hole perpendicularity relative to the surface must not exceed 0.1 mm. The surface roughness of the object under test must be not worse than Ra 3.2, non-flatness no more than 0.05 mm.
For researching at frequencies above 10 kHz, use liquid lubricant for the contacting surface.
Sensors with a mounting hole for M5 pin must be installed and dismantled only manually without any tools.
Attach the sensor cable to the object under test as close as possible with staple, adhesive tape, mastic or any other means. Do not use side blow when dismantling sensors fixed to the object, but put a scalpel under the base to break off.
Recommended Mounting Modes Depending on Probe Frequency
Mounting mode
up to 100 Hz
up to 1000 Hz
up to 5000 Hz
up to 10000 Hz
up to 20000 Hz
Beat a pin into the soil
On intermediate mass into the soil
+
On mastic, on magnets on flat surface
+
+
On magnets with hardening  mastic
+
+
+
On a thread pin
+
+
+
+
On a thread pin with lubricating contacting surface
+
+
+
+
+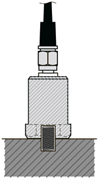 Fixing accelerometers with thread pin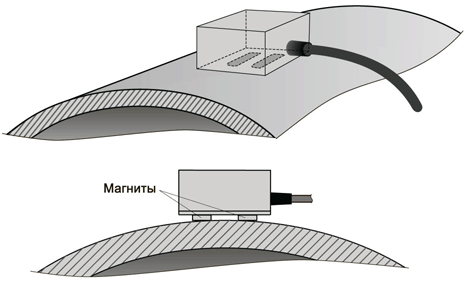 Installing seismic receivers on pipes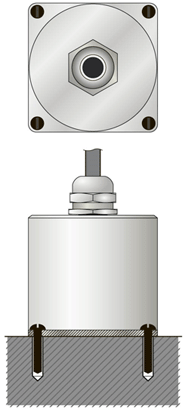 Installing seismic receivers on intermediate mass with screws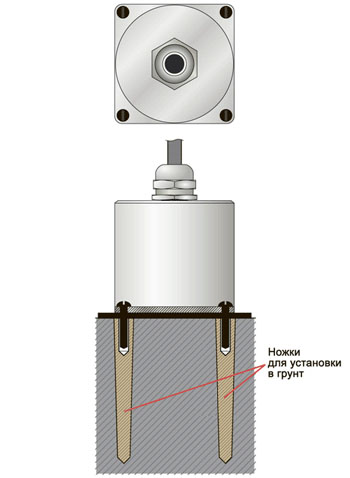 Installing seismic receivers into soft soil with pins